Listening to God through the Bible Theme

: The program starts with telling the children that God inspired men to write the words that we find in the Bible.

It then goes on to teach that we need to be very careful how we handle the Bible for it is God's Holy Word. From there, using the following Bible texts John 1:3; Ps 91:11; Ps 55:17; Eph 6:1; Matt 28:20; John 14:2,3; the children learn that the Bible has a message that is still very relevant to us today.

It begins with creation and ends with heaven.

Throughout the program is the assurance that Jesus loves us and is taking care of us today

.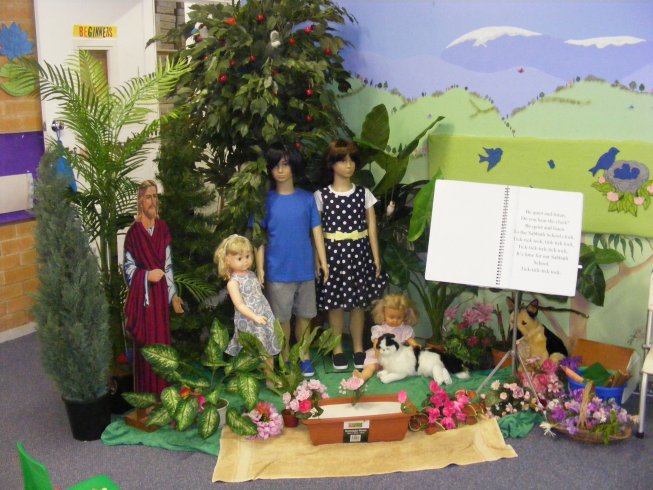 Room Set Up: If possible have two felt boards one with a large felt Bible on it. On this one you will add markers and build it up as you progress through the program. On the second board the children will place their felts and when talking about the second coming, place a second coming scene on both boards. This second board could have a grass background on it.
For the room itself, you could have a corner set up either as a room with a small table and chair and a Bible sitting on the table with a doll dressed and ready to read, or do a Sabbath School room with the Bible prominently displayed. In another corner I would set up a nature scene with artificial pot plants, flowers, stuffed animals, dolls to represent people and a large cut out of Jesus. I have a 40 inch felt Jesus which I have attached to a thin board and stand this in a slot on a base board. You could also have a heaven scene backdrop if available or pictures of heaven and angels on the walls.
Place the markers in your Bible before Sabbath School and pull the one you want the child to open the Bible too so that it the obvious one to the child.

---
These resources are free to download and be used as a ministry for children.



If you have not already done so, please click here to sign our Guest Book. By supplying us with your email address you grant us the ability and right to notify you of updates or changes to the programs available for download.