Year 2 Quarter 1:

The end of Sauls life, King David, and the prophets Elijah and Elisha.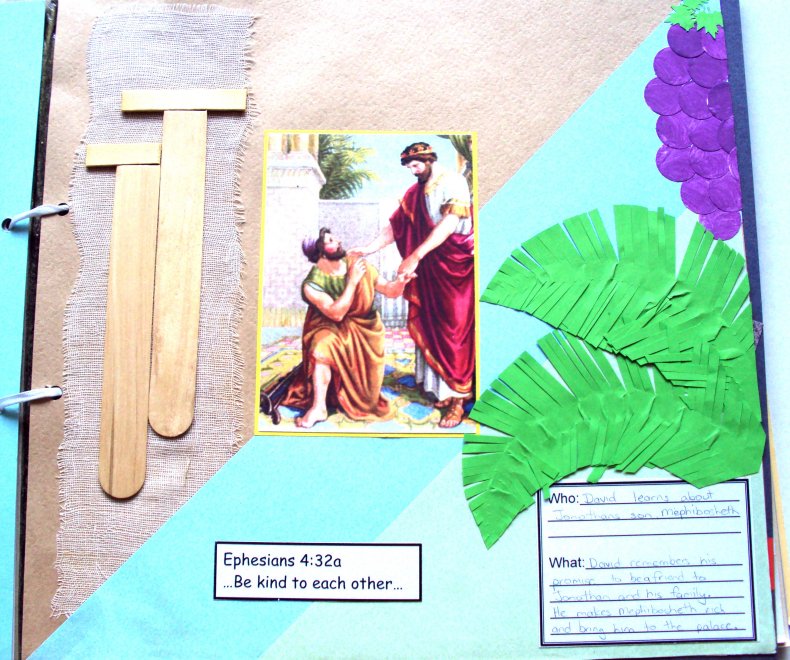 Craft:

Scrapbooking - Each week the children do another page to add to their scrapbook.

The page includes a "photo", a Who/What information card

, and a Bible verse.



To make the scrapbook you can do any of the following:

Use A4 card or scrapbooking card , either 20x20cm or 30x30cm
Use an extra piece of card to make a front cover; use a hole punch on each page and a piece of ribbon or string to tie them all together
Buy scrapbooking albums
Buy photo albums
Buy proper double-sided scrapbooking tape from a scrapbook shop, Big W or Spotlight (cheap tape from Overflow will not last.) I found it was best to pre-stick the tape on everything before hand as the younger kids will just waste it. Use a guillotine or paper cutter to cut the photos and cards apart and put a piece of the tape on the back of each so the kids just peal the backing off the tape to stick the item onto their page. The other option is to use glue sticks instead of tape.

Each week I give each teacher a plastic folder which contains the "program list" for the day and all the supplies that the kids at that table will need. Each table also has a small box containing extra coloured paper, scissors, glue, scrapbooking tape and normal tape etc in case they need them.



Supplies:

Click here to see craft supplies you will need for the quarter



---
DOWNLOAD


These resources are free to download and be used as a ministry for children. My only condition is that if you are printing the lesson books to hand out, you must print them double sided and staple them in proper booklet form.

To browse through or download individual files see our Overview.

Tick here if you agree to print the lesson books properly, double-sided and stapled into a booklet. For instructions to print double-sided click here.

"No Reading" level, pink lesson booklets for this quarter.
"Learning to Read" level, yellow lesson booklets for this quarter.
"Reading" level, blue lesson booklets for this quarter.
"Junior/Teen" level, orange lesson booklets for this quarter.
Church program, craft helps and Bible verse colouring pages for this quarter.

If you have not already done so, please click here to sign our Guest Book. By supplying us with your email address you grant us the ability and right to notify you of updates or changes to the programs available for download.